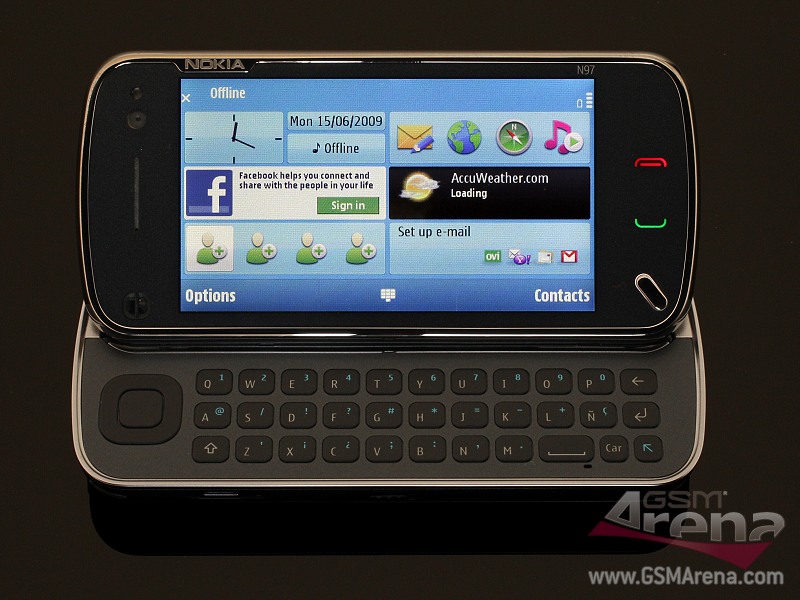 In the mid of August 2009, I went to Cash and Carry Mall (Filmore, Makati City) to buy the latest Nokia N97 – Black.
   I don't want to buy phones in Nokia Store because they usually don't have enough stocks, and they're very expensive (They sell n97 for a whooping Php36,500). I usually buy phones in Presnet Enterprise but in that day. they don't have stocks available. While me, getting so excited to lay hands on that new multimedia phone, decided to look for other dealers and I found 2 shops selling n97 for low price.
   While looking through the window, I decided to come in in one of these shop and  ask if how much is their n97, and one salesgirl told me that it's Php31,600. So it's cheap. And I did ask my second question if they have other stock aside from the unit displayed. And after telling me that it's their last stock, (I have a policy that I will never ever buy last unit on a store) I left the store and went to Hariom Telecom. They don't have the unit displayed, and called their Glorietta Branch to deliver one unit of n97 to them. Telling me that it will be delivered in 30 minutes, so I decided to stroll for a while.
   After 25 minutes, I came back and while I'm approaching the shop, I saw one girl passed the n97 I checked in the first shop to Hariom. But I pretend that I saw nothing.
   So I bought the unit from them and they gave it to me for Php30,500.00 with 1 year warranty from the store, not from Nokia.
   When  I went home, I tried and tried anything in n97; Speakers, Connectivity, Applications, Camera, etc.. And did not see any flaw. Working fine. But when I send messages in groups, it displays "General: Memory's Full. Please close applications and try again". What a shame! Checking the phone memory that it was preinstalled with 60 MB and just 23 MB left. For a multimedia phone like this, they should put some massive phone memory aside from the 32 GB mass memory on-board. Phone memory is so important because it's the place where Web Browsing, Contacts, Logs, Messages store data.
   I went for backup solution using PC Suite and reformat my phone using *#7370# key combination. There it is, reformatting… And again… I'll spend another hour configuring the setting of my phone and reinstalling application (Handy Blacklist, Python Support, etc.)
   I get my N95 Classic and removed the Micro SD and attached to the N97 (for daily back-up scheduling) only to find out that the memory card slot don't produce a clicking sound everytime I try to insert the card into it. And it can detect the memory card. I also removed my card in 5800 XpressMusic and tried it also into n97 but to no avail. I'm so irritated. And called the Hariom Telecom about the problem. That's the issue of having last stock unit. And they promise it to replace with a unit with Nokia 12months warranty.
   Now I have the unit replaced, and until now, I'm using it. And I need to reformat this 4x times a week!!! Because of phone memory issue! I still don't have time to go to Nokia Care Greenbelt 1 because when I called to them last week, they said that it will take 3 weeks for them to fix the unit. And if it's not fixable, they will have it replaced. Oh… now that's good, i bought this unit and spend nearly 1 month of sacrifices because of their quality control that sucks.
   I am a nokia fan ever since. I had almost 20+ Nokia Units in the span of 6 years. The n97 is my biggest disappointment so far. Followed by the n91 4GB.
   I'm currently using 5800 XpressMusic, N95 8GB, and a Sony Ericsson W960i for my daily use.
   Nokia is releasing another tablet pc and navigators but they can't even perfect a touchscreen phone like n97.
   2 stars out of 5 for Nokia.
---